THE VENDING MACHINES
Our Vending Machines are ideal & suitable for all Offices, factories, Hospitals, Educational Institutes, canteens, Hotels, Resorts & other public places.
With our state-of-art Coffee/Tea Vending machines, one can have Tea, Coffee, Lemon Tea, Soup & many other flavours on just a press of a button. We have a large range of beverages.
Our Vending Machines are conscientiously checked for safety & proper functioning & leaves the factory in fault free working order.
SPECIFICATIONS:
⦁ Number of Options: 2/3/4 Lanes
⦁ Weight: 17.2/21/22 Kg
⦁ Machine Dimension: 330*440*690 mm
⦁ Premix Capacity: 1Kg
⦁ Water Tank Capacity: 10 Ltrs
⦁ Warranty Period: 1 Year
⦁ Power : 2 Kw
⦁ Voltage: 22V – 50 Hz
⦁ Dispensing Rate: 4-5 Cups per minute
⦁ Start-up time: 10-15 Mins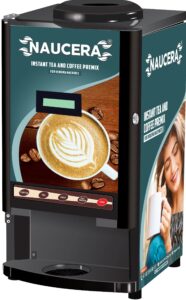 Daily Maintenance Of Naucera Tea Coffee Vending Machine